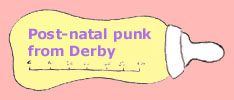 The Mothers
Other mum bands
Mom rock is happening in the US, so go and have a look at what they are up to over there: Rockinmom.com a website that lists all the mother bands and singer-songwriters. Mamapalooza - New York City's Annual Mom festival including bands, comedy, cabaret, poetry. Here are some of the bands:
Candy Band .
Housewives on Prozac
The Mydols
Frump
Militant Mom
Kathleen Pemble
Placenta
EASTrogen Extravaganza bands
Go visit
The Smears (UK) www.smears.co.uk and
Firebrand www.theoneandonlyfirebrand.co.uk" our local East Midlands all woman bands.
Derby Gig Venues we like
See what is on at The Victoria Inn, Derby's favourite venue for punk bands.
Or find out what is going on this month at Hunting for Teeth, Derby's left-field/alternative/post-rock/electronica type of thing.
Ponce in the park
Derby Moustache Festival
Stuff The Mothers love
Punk Squirrels May contain Nutz
Eclectech - satirical animation company
Badger Badger Badger
7 Seconds of love. Listen to their song Soupy George"