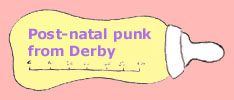 The Mothers
The Mothers is the UK's only all mother band, playing their own original songs that celebrate the joys and frustrations of being a mum. Izzy, the drummer had the idea of forming the band after she had given birth to twin babies in December 2002. "Life was pretty crazy – escaping to play drums in Beth's cellar and forming an all-mum punk band seemed to make total sense". The band met regularly in Beth's cellar for a gestation period of exactly nine months before playing their first gig in May 2004 at the Victoria Inn, Derby to a packed audience.
Reviews
People in the audience at The Mothers gigs have said "That was the best night out I have had in years" (a student) "I thought it could be either really embarrassing or really good, and luckily it was really great!" (a musician and dad) "The Mothers is the first rock music I have ever liked in my entire life. I felt really connected to the women in the band." (a mum) "That was excellent!!!! I am DEFINITELY not having any more children!" (a dad) "I could really relate to your songs as a dad. They were a fun look at being a parent" (a dad) "can I have a go on the drums"(a kid)
The Mothers' music has been described as "an intoxicating brew containing a measure of punk DIY, a dash of riot girl, a shot of mum rock and a twist of ska, all expertly blended together by 5 fantastic women. Best served live or chilled in the comfort of your own home. Probably the best mothers in the world!!" Nick Ratcliffe
"I have spent countless evening watching 4 pale boys hiding behind their instruments and haircuts delivering obvious chords and sixth form poetry with an absolute absense of charm and humour. The Mothers are the antithesis of this. These 5 women exude confidence, energy and wit and proudly sing and shout about real things without a trace of poe faced seriousness. And they actually look like they're enjoying themselves…as do the audience… as do the kids…" Paul Drury
Media
BBC East Midlands Today.
News feature by Jane Hesketh.
Central Television. Mothers Day
News feature showing The Mothers playing at the Victoria Inn and an interview with the band.
The Guardian 26.05.04 Never Mind the Horlicks
"Conveyed in a rush of three chord blitzkriegs, the manifesto of punk band the Mothers is not quite what you would expect. For one thing, their name is literal: each of the five band members is a mum. And their lyrics are a comical antidote to much of punk's lexicon – a point appreciated by the audience at the band's debut show in Derby."
Derby Evening Telegraph 10.05.04 It's a City First for Punk Frock
"..rather than singing about anarchy in the UK, like 1970's punk rockers the Sex Pistols, the mums' original repertoire of self penned songs celebrate motherhood in all its glory, including burning the tea and battling with nits. Andy Sewell, landlord of the Victoria Inn said "I was delighted to let the Mothers perform here. Promoting new bands is extremely important to me. The women did a sterling job."
Gigs
The Mothers regularly play local Derby and Derbyshire gigs, including a support slot for Twinkie. Forthcoming gigs include The Attik, Leicester, Nottingham and New York, Mamapalooza Festival, USA. The band have also played for St. James Infant School's music week.
Recordings
The Mothers have produced a cd called Ovulation, recorded at Rubber Biscuit studio in Nottingham in one afternoon session. We have been featured on a live compilation cd called Wired. We will be featured on an all mother-band cd being produced in the USA called MomAid (Profits to UNICEF).
Band Members
Izzy – drums
Claire – vocals
Nicci – vocals
Henry – bass
Beth – guitar and backing vocals
Individual Biographies
Beth
Beth learnt to play a few chords on the guitar at primary school, but then didn't play until joining The Mothers. She is single mother to Olly (12) and has gradually been finding more room for music in her life since he was born. She now conducts two community choirs, runs singing and song-writing workshops and is learning afro-Cuban percussion and Indian classical singing.
Beth attributes her eclectic and ever expanding love of music to the influence of the great and sadly missed John Peel. Beth has done lots of other things too including environmental education, making websites, goat milking, growing organic veg. and living on a bus.
Henry
Henry (sometimes known as Sarah) - mum to Jasmine, hadn't picked up a bass before joining The Mothers. She began playing classical guitar at school, as it appeared to be the only instrument her sister didn't play.
After lots of attempts at starting or joining bands she finally found her self in Beth's cellar playing punk. A totally different angle from her musical past of playing classical guitar in Tapas bars, busking on various streets around the world and singing in choirs.
Izzy
After learning to play drums on cardboard boxes, I played in my first band, Bradford's 'Thistle Fairies', when I was 19.Influenced by Riot Grrl bands of the time and The Velvet Underground's Mo Tucker I played gigs standing up (on a drumkit by this time), in a series of mad outfits and was told, "I never saw anyone look so happy".
Years passed, a couple of short lived bands and a long break. I had my first kid then twins two years after. Life was pretty crazy and at times I just wanted to escape and play drums in my friend Beth's cellar. I had the idea for an all mum punk-rock band soon after. It just seemed to make perfect sense.
Claire
What does a disabled single mum do when the son she loves starts school? Join a punk mum band of course!
Claire works as a participatory artist and also does 5 Rhythms dance. She has a dog, ten goldfish and is mum to Callum (7). She hadn't sung since her school days and had never been in a band before joining The Mothers. The band seemed like a good way to explore the vast and crazy world of being a mum while enjoying some of her favourite musical genres, like punk and ska.
Nicci
Nicci's work as a participatory artist and complementary therapist is all about empowering people to heal and express themselves and the band is an entertaining way in which she can do just that for herself as well.
Her singing began early with musicals sung into a hairbrush, then school choir hymns, festival fire hippy rock, teenage bedroom rap sing-offs, dance floor punk-ska, kareoke pop across the continents, community choir world harmonies and now post-natal punk-pop 'The Mothers'.
As a performance artist and avid dancer, what could be more natural when 8 months pregnant than to dress up in a fabulous costume, sing out loud and jump up and down on stage with a bunch of other mums! A great welcome to the world for her son, Elvin with her step-daughter, Tallissa and partner shouting for encores the loudest.
Contact
www.themothers.co.uk
e-mail: beth@themothers.co.uk
Phone: Izzy 01332 295 165