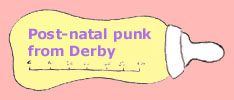 The Mothers
Gigs
We don't get out much, so catch us when you can. Any gigs that are coming up are posted on our myspace http://www.myspace.com/ovulation
2007
11th February. Therapeutic Drumming Foundation.
16th March. Sitwell Tavern with Little Whores on the Prairie
24th March. City-Zen Fundraiser at the Duke of York with Park Bench, The Deirdres, Concertina Turner, Buckshot Soup, and Dr. Cocacolamacdonalds.
30th March. 1 in 12 Club, Bradford with Baba Yaga.
21st April. The Victoria Inn, with Little Whores on the Prairie and Short Weekend.
6th May. Mamapalooza, Brighton, Westhill Community Hall with Tracey Curtis
28th September. Nappy Rash promotions birthday gig.
6th October. Ladyfest Leicester at Sumo
2006
20th January. Supporting Billy No Mates at The Victoria Inn, Derby.
15th February. St. James Infant School, Normanton Derby
1st March. City Zen. The Victoria Inn
18th June. Fathers Day Special at the Vic Inn, featuring Pregnant Dad, and Dadeeiioo!
28th May. Mamapalooza - Free festival in the Arboretum Park.
8th July. Whatstandwell, Derbyshire - fundraiser in a field, with beer tent.
29th October. Benefit for Macmillan Nurses at The Crown and Cusion, Midland Road, Derby. Gig starts at 12noon. The Mothers are on around 5pm.
9th December. Benefit gig for Nottingham Domestic Violence Forum with The SMears, Rapunzel Map and Alice Rock. £3.50 Starts 9pm.
2005
14th January. The Fishpond, Matlock Bath, Derbyshire. Supporting i Misti
6th March. Mothers Day Mayhem at The Victoria Inn, Derby
16th April. EASTrogen Extravaganza The Attik, Leicester. + Firebrands + The Smears (UK).
28th April. EASTrogen Extravaganza Hunting For Teeth, Susumi, Derby
29th April, EASTrogen Extravaganza. Junktion7 Nottingham
22nd May. Brunch gig with Candyband at Phoebes, on Bowery, NYC - just two blocks away from CBGB's
25th May.The Cutting Room, Mamapalooza - New York City, USA.
17th July. ROMfest, Market Place, Ripley, Derbyshire. We won 2nd place in a competition to get to do this gig.
10th September. Derby Eco-fest, Markeaton Park, Derby. 12 noon
20th September. Hope and anchor, Wirksworth, Derbyshire. Part of Wirksworth Festival. Support - with Cupola Park and i Misti.
1st October. Derby Moustache Festival. With St. Kilda Mailboat and Concertina Turner and Mme Dalmatia and her dogs.
Sat 30 October. Halloween Family Friendly Special. Nappy Rash promotions. At the Mist.
2004
9th May. The Victoria Inn, Derby.
11th July. Punx Picnic, Derby.
28th October. The Victoria Inn, Derby
30th October. The Queens Head, Belper.
26th November. The Mist, Derby. Soundbites benefit, supporting Twinkie.
18th December. Wired at The Fishpond, Matlock Bath. Greenpeace benefit
The Mothers took a trip across the atlantic to take part in

in New York City, where we were totally inspired by the bands we saw and people we met. Mamapalooza is a festival that celebrates mum artists, musicians, comedians and poets. First off, we met some of the new moms at Arlenes Grocery, including The Mad Jones Family Band, Kathleen Pemble, The Catholic Girls and missed many more as we were too jet lagged to stay up. On Saturday we spent a day by the river in the park for the outdoor festival, and saw Candyband, Betty, Housewives on Prozac, and many more. The Mothers were v. chuffed to get to play with the Candyband at Phoebes, just 2 blocks away from CBGB's. Paula from Candyband stepped in on bass as Henry had not arrived yet.Last but not least, we played at The Cutting Room, just off Broadway. Some of the fabulous mum bands we saw there were Frump from Dallas, Placenta from Oakland CA, Mydols from Detroit,

and again many more. Go check out Mamapalooza.com for some pics of the events.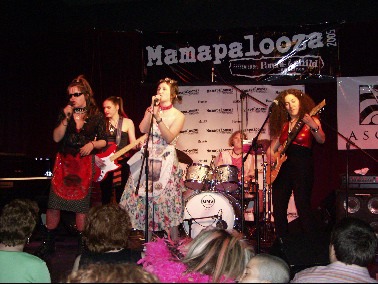 And here we are on stage at the Cutting Room (thanks to Lynda Kraal for the photo) .