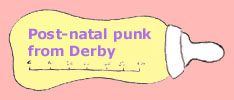 The Mothers
News
The Cowgirls. The Mothers have been turned into The Cowgirls by ace animator Eclectic. We love it and we hope you do too.


Claire left the band.Claire has left the band. She is still our best mate, but she decided to make some room in her life for something new.. We are looking for a mother to fill her big boots, so if you are a singing or guitar or bass playing mum and you'd like to look into the possibility of joining us, then get in touch.
The Mothers on Radio One. Huw Stevens played one of our tracks on his show in October. This was thanks to Nappy Rash Collective, who had sent a runner over to his gig in Derby, when we were playing at the Vic the same night.
Who are The Mothers?
The Mothers is the UK's only all mother punk band, playing their own original songs that celebrate the joys and frustrations of being a mum. Izzy, the drummer had the idea of forming the band after she had given birth to twin babies in December 2002. "Life was pretty crazy – escaping to play drums in Beth's cellar and forming an all-mum punk band seemed to make total sense". The band met regularly in Beth's cellar for a gestation period of exactly nine months before playing their first gig at the Victoria Inn, Derby.
Download our first album from i-tunes
OR visit our myspace site www.myspace.com/ovulation to hear some of our songs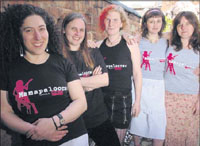 Contact The Mothers
Email beth@themothers.co.uk
Join our mailing list by sending an e-mail saying "Join Mothers Mailing List"